With the spooky season is just around the corner, Beds Divans has decided to find out which is the scariest film of all time. In this article, we'll round up the top 25 scariest films of all time, as well as highlight the top 5 films which people have lost sleep over. In addition, we will discuss the psychology of horror films with Nevsah Fidan Karamehmet, an expert in behavioural science.
Top 25 Scariest Films of All Time
In order to determine which films were the scariest, we analysed over 50,000 reviews on IMDb for the top 25 highest-grossing horror films (worldwide) and tallied up the number of times that words synonymous with "scary" and "terrifying" were used in the reviews.
In the table below, we've ranked each film in order of combined reviews from critics and the public to determine which has the highest scare score. 
Whether you're an avid horror film watcher unfazed by blood and gore, or a nervous viewer who watches with their hands covering their face, we're sure there's a film for you on our list.
#1 – The Blair Witch Project (1999)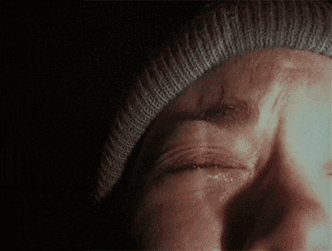 After analysing the overall IMDB rating and 50,000 critics and public reviews, The Blair Witch Project (1999) ranks in first place as the scariest film of all time, scoring an impressively high scare score of 2805 pts. 
The film is based on found footage of three young film students who mysteriously vanish after travelling into a Maryland forest to film a documentary on the local Blair Witch legend.  
Despite having a budget of only $300,000 (£220,000) and no fancy special effects, this film managed to capture the world's attention and is renowned for being an extraordinary effective horror film. One reviewer stated, "Most creepy and disturbing movie I've ever seen". 
If you're a fan of creepy forests and found footage tropes, then we definitely recommend giving this film a watch this Halloween!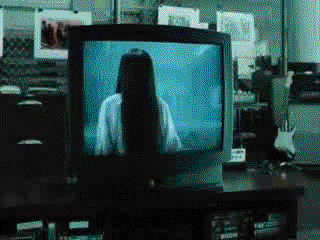 The Ring (2003) ranks second place in the scariest films of all time, with a scare score of 2,098 pts. The Ring tells the story of a journalist investigating a mysterious and eerie videotape which causes anyone who views it to die one week after viewing it.
Unlike The Blair Witch Project, The Ring's budget consisted of $48 million (£35 million), which helped attract Hollywood stars Niomi Watts and Martin Henderson onto the set. The film is cherished by many horror film lovers and has a rating of 7.1 out of ten on IMDb. 
One reviewer states The Ring is "one of the most scary and unsettling horror movies ever made"and we happen to agree! If you're looking for a film that'll leave you terrified and on edge, then this movie is a must-watch.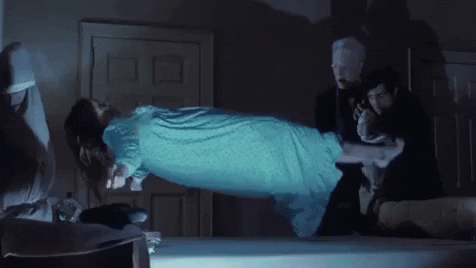 In third place is The Exorcist (1973), with an impressive scare score of 1,601 pts. Released in 1973, The Exorcist is considered a hallmark of horror films and remains a perfect example of how to terrify an audience using the ambience of suspenseful terror, without the use of extensive special effects or CGI. 
The film is based on the story of a 12-year-old girl who becomes possessed by an evil and mysterious entity. One reviewer writes this film is the "Best horror movie in history" and from our research, it seems many horror fans agree with this statement. 
Put simply, The Exorcist is a horror film classic and for over 40 years has inspired generations of filmmakers. Grab some popcorn and get ready to be scared!
#4 – The Conjuring (2013)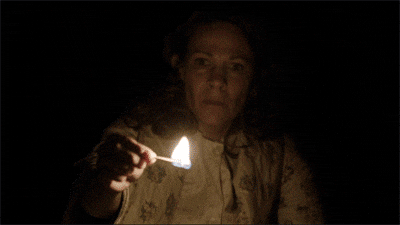 The Conjuring (2013) ranks 4th place on our list with a respectable scare score of 1,588 pts. The film follows paranormal investigators Ed and Lorraine Warren in their work to rid a family of a dark entity within their home. This film was a box office hit, raking in an impressive $319 million (£234 million) globally following its release in 2013. 
One reviewer writes that this film is "chilling, haunting, a testament that modern horror IS NOT DEAD". If you're looking for a film that delivers scares and chills down your spine, then The Conjuring is certainly worth a watch!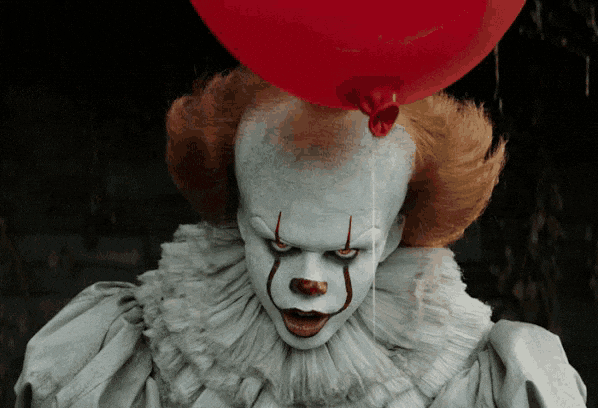 In 5th place on our list is IT (2017), with a scare score of 1,581 pts. Based on Stephen King's 1986 novel of the same name, IT is a coming-of-age supernatural horror film that explores the story of a group of kids who battle against a mysterious shape-shifting monster (known as Pennywise the Clown). 
This film remains the highest global grossing horror film of all time and has brought in an impressive $700 million (£514 million) since its release in 2017 and still remains culturally relevant, with an average of 243,000 google searches in the UK each month.
One reviewer states that they found this film "disturbing, dark, depressing even, and downright delightful". If you're a fan of creepy clowns and heartwarming storylines, then IT should be next on your list of films to watch!
Top 5 Scariest Films of All Time
Critics Choice Vs The Public's Choice
While both critics and the general public consider the Blair Witch Project to be the scariest film of all time, the film in second place is subject to debate. Here are the top five rankings for the critics and public:
The IMDB Critics Top 5 Scariest Horror Films
The IMDB Public's Top 5 Scariest Horror Films
Top 5 Horror Films So Scary they've Kept People Up At Night
At Beds Divans, we pride ourselves on being experts in all things sleep-related, which is why we wanted to know which of these films were so scary that they left viewers unable to sleep. 
After analysing 50,000 critics and public reviews, we tallied the number of reviews which mentioned the inability to sleep after viewing each film. There are some films that just shouldn't be watched before bed and here are these films.
Once again, The Blair Witch Project (1999) dominates the leaderboard in scariness. Over 100+ reviewers found this movie so unsettling and disturbing that they were unable to fall asleep! Followed closely behind is The Ring (2002), with over 90+ reviewers reporting they were unable to sleep after watching this film.
The Psychology of Horror Films
The question is, why are so many of us drawn to horror? Why do we watch films we know will terrify us? In order to find out more about the psychology of horror films, we interviewed Nevsah Fidan Karamehmet, a distinguished and highly respected international teacher of behavioural sciences and President Of The Breath Coaching Federation.
Nevash explains that in our day to day lives, "most people try to avoid pain … [and instead] seek pleasure". By continually seeking out pleasure in our day to day lives, we leave a vacuum in our lives for fear, sadness and displeasure. She adds that seeking out  "happy and safe moments" creates a "need for horror and distress", in this case, in the form of watching horror films.
Methodology:
 In order to determine which film is the scariest, we collated the top 25 highest-grossing horror films at worldwide box office. Once this list was created, we scraped data from IMDB and analysed the reviews (critic and public) and tallied up the number of keyword matches for: "scary", "scariest", "terrifying", "nightmare" "nightmarish", "eerie", "bloodcurdling", "unnerving", "spine-chilling", "horrifying", "creepy" and all other words synonymous with the above. The films were then ranked using the number of reviews with these keywords.